Songor Ramsar Site
The site comprises of brackish water lagoon with extensive mad floods and Islands, salt pans a broad sandy beach and flood plains which drains directly into the Songor lagoon. It is the second of most important water bird site on the coast of Ghana.
| | |
| --- | --- |
| Release date | 04/09/2010 |
| Contributor | Eric Okoree |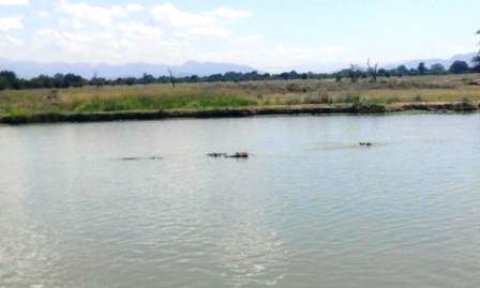 The Songor Ramsar Site comprises a brackish water lagoon with extensive mud flats and islands, salt pans, a broad sandy beach and flood plains of a number of small streams including the Sege and Zano, which drain directly into the Songor lagoon. The open water area of the lagoon stretches up about 11,500 ha and extends about 20 km along the coast and about 8 km inland behind a narrow sand dune on which small villages are situated. The land around the lagoon is low-lying, with the highest point less than 10 m above sea level. Channels which in the past provided direct connection with the Volta River are effectively blocked. The lagoon has no direct access to the sea and sea water replenishment is from seepage through the sand dunes.

The vegetation is coastal savanna comprising saline marshes and degraded mangroves, (mainly Avicennia sp.) along the margins of the lagoon; waterlogged grassland with riverine woodland; scattered thickets of shrubs as well as climbers and small trees on higher ground. The main human activities in and around the lagoon are farming, fishing and both commercial and artisanal salt mining.

Songor Wetland is the second most important waterbird site on the Ghana coast supporting an estimated total population of over 100,000, birds including globally significant numbers of 14 species. The site is particularly important as a roosting site for terns: roosts of over 50,000 terns are seen regularly during the months of September and October, which is the peak season for terns along the Ghana coast. Other species of global conservation concern include the three species of endangered marine turtles, Lepidochelys olivacea, Chelonia mydas and Dermochelys coriacea which nest regularly along the Songor beach.

The upland areas surrounding the lagoon are very heavily degraded, freshwater flow into the lagoon is limited and large portions dry up during the long dry season. Threats to the biodiversity include heavy hunting of all species of nesting turtles and collection of their eggs. Commercial and residential development and sea erosion are some of the major threats to the wetland.
---