High Forest
The high forest area in Ghana comprises the reserves and off-reserves.
| | |
| --- | --- |
| Release date | 14/08/2010 |
| Contributor | Kwesi Anderson |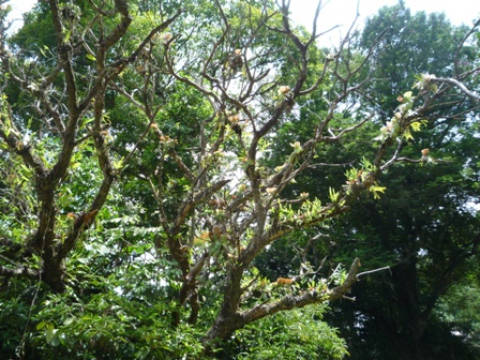 The high forest cover in Ghana includes the forest under permanent reservation and those outside of the permanent estate referred to as the off-reserve forest. The permanent forest estates were established by the Forest Ordinance Act in the early part of the 20th century for various ecological and economic reasons. Chief among the reasons for the establishment of the reserves include timber production, protection of watershed and ecologically sensitive areas such as hills with steep slopes, fire belts, provision and sustenance of ecological conditions ideal for cocoa production.
At the beginning of the 20th century, Ghana had about 8.2 million hectares of high forest of which 1.8 million hectares has been designated as permanent forest reserves which exist today in isolated blocks. (insert a link FR Map of Ghana) About 400,000 ha is of the permanent forest estate is heavily degraded due to over exploitation of timber and agricultural encroachment.
The off-reserve forest area has declined significantly as a result of competing land uses such as agriculture, mining, settlement expansion and infrastructural developments. Incidence of bush fire especially in the early 1980s was a major contributory factor to the decline of Ghana's forest cover, affecting areas both within and without the permanent forest estate.
The forest ecosystem in Ghana has been classified into eight vegetation zones based on climatic conditions and floristic characteristics of the plant community (Hall & Swaine, 1981). These are; wet evergreen, moist evergreen, upland evergreen, moist semi-deciduous forest (comprising the northwest and southeast subtypes), dry semi-deciduous (comprising the inner zone and the fire zone subtypes) and the southern marginal.