Protected Areas
The forest land mosaics which consist of remnant natural forests and sacred groves located outside the forest reserves cover about 6,525,000 ha.
| | |
| --- | --- |
| Release date | 05/05/2015 |
| Contributor | Nutefe Dra |
| Geographical coverage | Ghana, |
| Keywords | Forest, sacred groves, conservation, |
The numerous traditional conservation areas such as sacred groves (e.g. Tafi-Atome Monkey Sanctuary) and other community initiatives (e.g. Mount Afadjato Community Forest Project) are contributing significantly to biodiversity conservation in this country. Unfortunately, even though the traditional authorities play a critical role in in-situ conservation by maintaining a system of sacred groves, community forests and protected wildlife areas, no provisions have been made to formally accord them legal recognition and to include them in the conventional management regime of the country. Table 1.4 has information on the distributionof the protected areas in Ghana and the types of vegetation in them.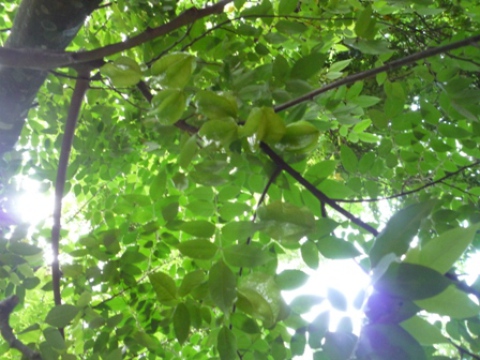 Table of Protected areas in Ghana
Name of Protected Area
Region
*Vegetation zone Forest Type

Year

Gazetted
Size (km2)
*Forest Type*
District
1
Ankasa Resource Reserve
Western
Wet Evergreen
1976
343.00
WE*
Jomoro
2
Nini- Suhien National Park
Western
Wet Evergreen
1976
160.00
WE*
Jomoro
3
Bia National Park
Western

Moist Semideciduous North-west subtype

1974
78.00
MSNW*
Juabeso
4
Bia Resource Reserve
Western
Moist Evergreen
1974
228.00
ME*
Juabeso
5
Kakum National Park
Central
Moist Evergreen
1991
210.00
ME*
Twifo- Heman
6
Assin Attandanso Resource
Central

Moist Evergreen

1991
150,00
MSSE*
Twifo-Heman
7
Owabi Wildlife Sanctuary
Ashanti
Moist Semideciduous North-west subtype
1971
13.10
MSSE*
Nwabiagya
8
Bomfobri Wildlife Sanctuary
Ashanti
Dry Semideciduous Inner zone subtype
1975
53.10
DS*
9
Digya National Park
Brong Ahafo
Dry Semideciduous
1971
3,478.30
DS*
Sene / Kwahu N
10
Bui National Park
Brong Ahafo
Savanna
1917
1,820.60
Savanna*
Tain/ Bole
11
Kogyae Strict Nature Reserve
Ashanti
Dry Semideciduous Fire Zone subtype
1971
385.70
DSFZ*
Sekyere
12
Shai Hill Resource Reserve
Greater Accra
Dry Semideciduous
1971
53.00
DS*
Dangbe West
13
Kalakpa Resource Reserve
Volta
Dry Semideciduous
1975
320.20
DS*
Ho
14

Kyabobo National Park

Volta

Dry Semideciduous Fire zone subtype

1993
222.00
DSFZ*
Nkwanta
15
Mole National Park
Northern
Dry Semideciduous
1971
4,840.00
DS*
Gonja West, Damongo
16
Gbele Resource Reserve
Upper West
Dry Semideciduous
1975
565.40
DS*
Sissala East, Tumu